I decided that Little Foot will be Gir from Invader Zim this year (I was originally going to be Zim as her partner in crime, but the soulless beast that lurks inside of me decided that Amy Winehouse would be a better option).
For those of you who don't know who Invader Zim is…well, long story short: a terrible cartoon that has gained a "cult classic" type following. It's about a little alien named Zim who is the short bus equivalent of fail on his planet. He is assigned do destroy Earth but fails over and over again. That's pretty much the jist of it.
I love love love love this cartoon. I'm not even 100% sure why – the colors are off, the plot never thickens, and the overall feeling is just kinda bad. However, it holds a special place in my heart; so much, that I even own the entire disc set.
This is what Gir looks like: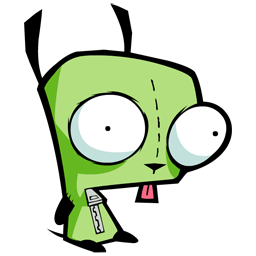 Gir is actually a robot, but wears this little green doggie costume as a disguise. I decided that I would create Little Foot's costume in the same way – a little pissed off robot on the inside, cute doggie on the outside (she is the robot part, I'm too lazy to make an inception costume).
Here was the result:
I made the hat with Sheep(ish) yarn with the color Lime(ish) from Joann Fabric. I used a puff stitch for most of the hat and a half-double crochet for the last few rounds to keep the hat snug. The eyes and tongue are crocheted from thrifted yarn. For the ears, I used a zigzag stitch and stuffed the inside with cotton fluff. The eyeballs are just buttons sewn on.
The jumper was originally an adult women's sweater from a thrift store.I made the jumper about knee-length and wider than a regular dress so that she has room to move around. It has fleece on the inside, so I won't have to layer Little Foot as much this year to keep her warm!
What I loved about the jumper was how easy it was to create – I think I will make about 100 more, but only waist-length using MADE's 90-minute shirt pattern so that Little Foot has a shit load of presents to open this year. I also love that I spent a total of about $10 on her costume.
All in all, I'm incredibly pleased with the results and hope that people will actually recognize her costume (mostly since I put so much work into it LOL).